Let's celebrate our amazing seals
Monday 22nd March 2021
seals, seal island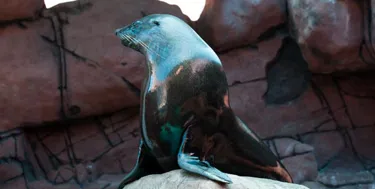 Today is International Day of the Seal and SEA LIFE Sunshine Coast Aquarium is celebrating by unveiling the latest upgrades to Seal Island, which are already proving to be a hit with its residents!
Seal Island is home to six seals, including Australian sea lions April and Teiko who enjoyed a special enrichment activity of coloured ice blocks and fish to celebrate their first visit to the husbandry exhibit since it underwent a refurbishment.
The upgrades to the seal's second exhibit – where the team provide the mammals with an enriching environment for exercise, training sessions and socialising – include a new roof, new theming and larger windows to provide increased stimulation for the seals and a new vantage point for guests to marvel at the beautiful creatures. A new Seal Photo opportunity for guests will also be available in the near future!
According to SEA LIFE Sunshine Coast's Mammals Manager, Carla Haskell, the team is looking forward to utilising the husbandry exhibit to assist in future breeding programs.
"Our plan for the future is to implement a breeding program for the endemic Australian sea lions, which are currently listed as endangered on the IUCN Red List. April and Teiko are both female Australian sea lions here at SEA LIFE Sunshine Coast and our aim is to provide them with male counterparts to produce a sustainable future population for generations to come," said Carla.
A breeding program would help boost populations of Australian sea lions, which are currently under threat from habitat destruction, pollution, by-catch and more.