Ironman Sunshine Coast
Friday 11th September 2020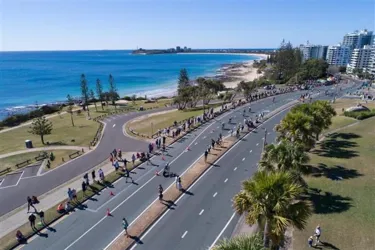 Changed Traffic Conditions
Date:

11 September 2020 - 13 September 2020

Location:

Mooloolaba Beach
Available parking
Free parking is available, however usual hourly limits apply in all locations – always check local signage.
Brisbane Rd car park will be open the entire weekend.
The Wharf car park will be open until 4am, Sat 12 September, then limited public car parking will be available until it reopens in full after the race, from 5pm, Sun 13 September.
Parking along Parkyn Parade towards Mooloolaba Spit will be open and accessible throughout the event build and race day.
On-street parking throughout Mooloolaba.
Paid parking will be available at Mooloolaba State School (via Venning St) on Sunday 13 September.
For a smooth drive in
The best access to Mooloolaba on event day Sunday 13 September is via Brisbane Rd from the Sunshine Motorway.
Between 4.30am – 12.30pm on event day (Sunday) - the best access to the Mooloolaba Beach Holiday Park, Mooloolaba Spit and Parkyn Parade is via the Wharf Car Park deviation entry via River Esplanade.
As part of the Walan Street Upgrade, Walan Street will be closed to through traffic between Smith and Venning streets. Follow the alternative route signage and you will easily avoid works.
Some local streets will be manned by police and/or traffic management, expect slight delays in accessing.
List of road closures
Changed Traffic Conditions
Getting to Mooloolaba – Ironman participants, visitors, local workers
A significant amount of planning has been done by council, IRONMAN and stakeholders to ensure easy access to Mooloolaba for the weekend so our locals and visitors can enjoy this fantastic area.
Free shuttle bus service
A special event shuttle service will be running regularly to and from Mountain Creek High School and River Esplanade (Mooloolaba) bus stop on:
Saturday 12 September 8am – 6pm
Sunday 13 September 4.30-8.30am and 12.30-5.30pm