Special Offer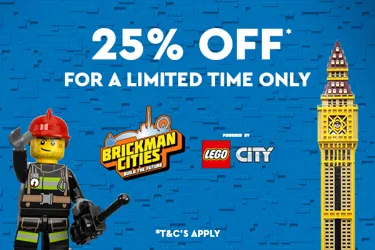 Brickman Cities is an interactive, collaborative and educational experience for LEGO® lovers young and old.
Discover the historical journeys of the iconic cities of London, New York Dubai, Tokyo and Sydney, as told in LEGO®.
The centrepiece of this experience is a 1:600 scale model of Manhattan, which is built entirely in white LEGO pieces with 3D stories of New York projected directly onto them. The Lower Manhattan model is made of over 200,000 LEGO® bricks and took approximately 572 hours to build!
Terms and Conditions:
Receive up to 25% off 
This offer is valid for a General Admission Ticket to Brickman Cities powered by LEGO® City
Pre-bookings online are essential
This offer is not valid on weekends and during school holidays
Children under 16 must be accompanied by an adult
Online tickets are non-refundable
This ticket is not valid with any other promotion, discount or offer
Children aged 3 and under visit free
Book Now