Little Blue Penguins at SEA LIFE Sunshine Coast
Saturday 5th October 2019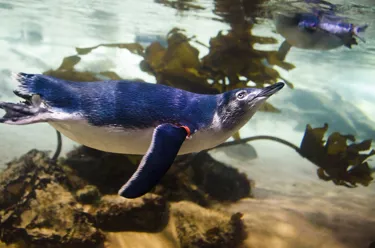 SEA LIFE Sunshine Coast (formerly Underwater World) will soon become home to a delightful colony of little penguins, with an interactive new exhibit launching in December 2019.
Opening in time for the summer school holidays, the Little Blue Penguins zone will immerse guests in the wonderful world of the smallest penguin species – above and below the water!
SEA LIFE Sunshine Coast's brand new zone will take guests on a journey from an above ground observation deck to an underwater vantage point for an all-encompassing look into the life of a little penguin.
According to Quinn Clarke, General Manager of SEA LIFE Sunshine Coast, Little Blue Penguins will be an entertaining mix of animal encounters and hands-on activities.
"We are excited for visitors from the Sunshine Coast, Brisbane, all over Australia and the rest of the world to meet our adorable colony of little penguins in our state-of-the-art new zone. Throughout the development of this project, we have been determined to create a unique visitor experience that replicates the natural habitat of little penguins and educates guests while being innovative and fun."
"It was important for the Little Blue Penguins zone to incorporate a conservation-focused education program. Our colony of little penguins will be ambassadors for their species, playing a significant role in helping us communicate SEA LIFE Sunshine Coast's conservation values. Guests will also learn about the lifecycle of a little penguin, what they eat and how we can help protect them in the wild," continued Quinn.
The colony of little penguins are set to arrive at SEA LIFE Sunshine Coast in November where they will be given time to get accustomed to their new surroundings and meet their incredible team of aquarists before Little Blue Penguins opens to the public in December.
"We are eagerly awaiting the arrival of the little penguins after 12 months of planning and development. We have created a realistic exhibit that mirrors their natural habitat of cool water, plants, rocky shores and sand. We will be feeding the little penguins a healthy diet of tiny little fish, especially whitebait and small whiting, and look forward to seeing this raft of penguins settle into their new home at SEA LIFE Sunshine Coast," said Kate Willson, Displays Curator at SEA LIFE Sunshine Coast.
As well as this exciting new addition to the aquarium, guests will still be able to meet SEA LIFE Sunshine Coast's seals, grey nurse sharks, rays, turtles, lionfish and moray eels along with countless other intriguing sea creatures!
Little Blue Penguins opens at SEA LIFE Sunshine Coast in December 2019. It is a permanent exhibit and included in the admission price. 
About little penguins:
Little penguins (Eudyptula minor) are the smallest species of penguin
They breed in colonies along the southern coastlines of Australian and New Zealand
Adult little penguins are the only penguins with blue and white feathers rather than black and white feathers
Little penguins spend approximately 80% of their life in the water but return to land to breed, moult and rest