Midweek playdate ideas for Toddlers in Sunshine Coast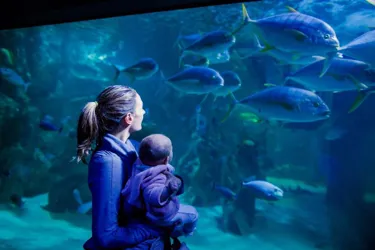 A few kids, a few hours. What now? These fun, playdate ideas are an excellent chance for your toddlers to connect and learn a thing or two. The Sunshine Coast is packed full of fun kid-friendly group activities.
A Thriving Rainforest
The Mary Cairncross Reserve ticks many toddler-fun boxes: space to run amuck, an awesome playground, a pram-friendly track, plus cute Paddymelons (small local wallabies). Oh, and the rugged volcanic peaks of Glass House Mountains as your backdrop are a mighty bonus too! So load up your car, grab some snacks and get ready for a beautiful afternoon of outdoor discovery.
An Easy Waterfall Walk
When it's getting warm, don't miss the 1.7km Picnic Creek Circuit. Look up as you wander through the enchanting tall Eucalypt forest. Your final reward? At the end of the track, you'll get to gorgeous Rockpools, and the spectacular 80-metre high Kondalilla Falls. Minding the kids is easier when there are proper amenities available; rest assured – here you'll find toilets, as well as picnic and BBQ facilities.
Amazing Wednesday Market
World-class markets on a Wednesday? Yup! That's Australia for you. Rain, hail or shine, the hundreds of quirky arts, crafts and produce stalls of Eumundi Markets rocks on. These small-town markets have been around since 1979, and they're kind of world-famous.
 Get your toddlers inspired as they search for new treasures; from a make-a-dinosaur kit to a gamut of groovy books, there's something for every tot. And if they're still bundles of merry energy, there's always the playground where they can tire themselves out. Snack time is a total treat, sample a selection of delicious grub while you listen to some beautiful live music.
Unforgettable Sea Adventures
Be the coolest playdate parents by taking your toddlers on a trip to SEA LIFE Sunshine Coast Aquarium. This place makes for a great kids day out because it's educational, interactive and breathtaking, all at the same time! That means it's fun for big kids (you!) too. 11 diverse zones and daily presentations will keep everyone entertained for hours.
Marvel at colourful reefs and massive rays as you walk along the 80-metre Ocean Tunnel. And feed big, friendly seals right from your hands. Help solve the never-ending problem – where's Dory? – at the new interactive experience created with Disney Pixar.
Then there's the Tidal Touch Pools where you can roll up your sleeves and interact with sea stars, sea cucumbers and other incredible creatures. If you're looking to visit the real thing, read our article about The Most Beautiful Rockpools for Kids in the Sunshine Coast .
See Their Favourite Creatures
To make the most of your aquarium experience, note the feed and talk times in advance so your tots can meet their favourite marine animals. Whether it's learning about mesmerising ghost-like jellyfish or why starfish have camouflaging bumpy skin (you can touch them!), all these expert sessions are included in your admission price. Whichever day, whatever the weather, there's so much to do at SEA LIFE Sunshine Coast. Plus, the attraction is fully wheelchair and pram accessible.
Weekday Special
Just a parent with a kiddo under 3-years-of-age? SEA LIFE Sunshine Coast has discounted weekday tickets for you. Outside of school holidays, from Monday to Friday, the two of you can have all-day admission for just $25. Book online now to save big time.