New rescue seal to join the colony at SEA LIFE Sunshine Coast Aquarium
Friday 28th January 2022
seals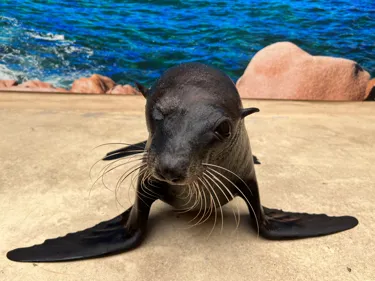 Nine year old female Saturday will now call SEA LIFE Sunshine Coast Aquarium home, after being stranded on and rescued from Surfer's Paradise Beach. Originally in the care of Sea World, Saturday has now joined the Seal Island colony at SEA LIFE Sunshine Coast after extensive rehabilitation.
Saturday was found with 'corneal opacity' and irreparable damage to her right eye, and after vet examination it was deemed to be in her best interest to have her eye removed.
"We are so excited to welcome Saturday, a Long Nosed Fur Seal to our colony here at Seal Island. We currently have two resident Long Nosed Fur Seals that are super excited to have another member join them. Saturday is a lovely calm seal and we look forward to seeing her thrive in this new environment under the care of our dedicated team", said Carla Haskell, Mammals Manager at SEA LIFE Sunshine Coast Aquarium.
Saturday was introduced to the colony this week (vision linked above) and received a warm welcome from her new seal friends.
Visitors at SEA LIFE Sunshine Coast Aquarium can see Saturday enjoying her new home from today onwards.
SEA LIFE Sunshine Coast runs daily seal presentations at our Seal Island exhibit, and we also offer the opportunity to get up close with these curious creatures with our Seal Swim and Seal Encounter experiences.
More Information
General Admission
Online From
$36
Per Adult
Price includes a Digi Photo Pass with 8 digital photos – valued at $26!
Save up to 20% when booking online at least one day in advance on weekdays and outside school holidays
Book a day and time to guarantee entry - you will gain entry within half an hour of your designated time slot!
Pre-book online to save up to 20% weekdays and outside school holidays
Book this ticket if you have an Annual Pass
Book a date and time to guarantee entry - you will gain entry within half an hour of your designated time slot!
Limited capacity