SEA LIFE Sunshine Coast launches Penguin Encounter experience.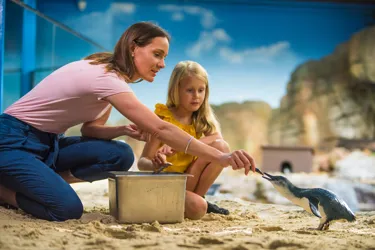 Step inside the Little Blue Penguins' habitat at SEA LIFE Sunshine Coast for the Penguin Encounter, where you can meet our adorable colony of birds and hand feed them a fishy feast!
Each one of our playful penguins has a distinct personality, which you can get to know as you feed the birds their banquet and watch up close as they waddle, swim and play! 
The brand new experience also includes a unique behind the scenes tour where you can discover how we care for these cheeky little creatures and ask our team of penguin experts anything you want to know.
Guests must be aged 5+ to participate; all guests under 18+ must be accompanied by a participating adult.
For further information, please click below:
About the Little Blue Penguins exhibit:
SEA LIFE Sunshine Coast's new Little Blue Penguins zone will immerse guests in the wonderful world of the smallest penguin species – above and below the water! The aquarium's new zone will take guests on a journey from an above ground observation deck to an underwater vantage point for an all-encompassing look into the life of a little penguin.
The colony of little penguins will be ambassadors for their species, playing a significant role in communicating SEA LIFE Sunshine Coast's conservation values. Guests will be able to learn about the lifecycle of a little penguin, what they eat, and how and why we can help protect them in the wild.  
About little penguins:
Little penguins (Eudyptula minor) are the smallest species of penguin
They breed in colonies along the southern coastlines of Australian and New Zealand
Adult little penguins are the only penguins with blue and white feathers rather than black and white feathers
Little penguins spend approximately 80% of their life in the water but return to land to breed, moult and rest