Rehabilitated hawksbill turtle released at Mooloolaba Beach
Tuesday 28th January 2020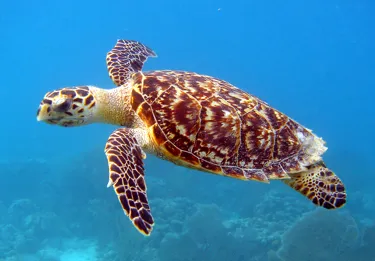 SEA LIFE Sunshine Coast has released yet another rehabilitated sea turtle at Mooloolaba Beach!
Marmalade's release comes ahead of the Sunshine Coast Council's 7th annual Clean-up for the Hatchlings event on Saturday 8 February, which calls on locals to join forces to remove rubbish from local beaches to allow turtle hatchlings a clear run into the ocean.

Marmalade was found suffering from floating syndrome north of Stumers Creek in October 2019. The hawksbill turtle has since been rehabilitated by the team at SEA LIFE Sunshine Coast, who have helped her reach a healthy weight of 5.3kgs.

"Marmalade's story is an excellent reminder of the threats facing local marine life and will hopefully encourage locals to take part in the Sunshine Coast Council's annual Clean-up for the Hatchlings," said Laura Kippax, Aquarist at SEA LIFE Sunshine Coast.

"Plastic pollution has a devastating effect on marine creatures. It is particularly detrimental to turtles as they mistake plastic for food, which results in stomach blockages, starvation and poisoning. Picking up rubbish left at local beaches and waterways is a simple and effective way for people to make a difference. We also want to encourage people to reduce, reuse and recycle so rubbish doesn't end up in our oceans in the first place."

SEA LIFE Sunshine Coast is a proud partner of Clean-up for the Hatchlings. The free event run aims to inspire the local community to come together to help clean-up various Sunshine Coast beaches in preparation for the hatchling turtles.

The beach clean-up will take place at multiple locations from Coolum to Caloundra between 6am – 7:30am. Following the beach clean-up, volunteers can meet at La Balsa Park to weigh and sort debris, listen to guest speakers, enjoy a free BBQ and participate in a prize draw.

For further information about SEA LIFE Sunshine Coast, visit: www.sealifesunshinecoast.com.au