Walk your way around the Sunshine Coast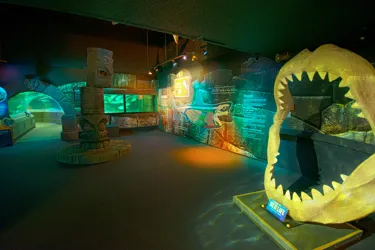 Sand, sea and towering mountains, it's almost too easy to find the best walks on the Sunshine Coast. If you're wondering what to do in Sunshine Coast beach and hinterland areas, here are a few of our favourite walks.
Buderim Forest Park
Who doesn't love waterfalls? Yes, you have our full permission to go chasing them, in Buderim Forest Park. Gaze into rockpools, peer into natural caves and let the waterfall mists restore your senses. Take a breather on the enormous roots of a fig tree, and listen for beautiful bird song. Many birds make this area home, with its rainforest valleys and reliable streams. The park isn't far from the pretty town of Buderim, so stop by to pick up fresh ginger and other local delights.
Mt Tinbeerwah, Noosa
Here's a short one for you. At just 300 metres long, this walk is fun for all ages. It might be easy, but the view is worth it! At the top of Mount Tinbeerwah is a viewing platform where you can look out over the district. The track narrows and becomes uneven at the end, but for the most part, it's wheely-friendly. And afterwards, it's a short trip back to the car! Tell everyone you walked to the top of Mt Tinbeerwah, and no-one will ever guess your secret.
Mount Tibrogargan, Glasshouse Mountains
Talk about gorgeous… this one's stunning. It's an ancient volcanic plug that goes straight up and away. There are a number of these beauties in the Sunshine Coast area, standing out above the horizon. This one is particularly breathtaking because it's difficult! You'll need a good degree of fitness and agility to do it. There are climbs, and tricky parts to negotiate. One for the more experienced adventurers.
Cotton Tree/The Esplanade, Mooloolaba
After summiting Mount Tibrogargan, how about a gentle beach walk (for 40kms!) Just kidding – you can do this one in sections. This Coastal Pathway runs north/south from Tewantin to Bells Creek. If you jump on at Cotton Tree, you can wander just over 4kms to The Esplanade in Mooloolaba. Bring your swimming stuff, and make a day of it; the beaches here are some of the best in the world. Cotton Tree is especially suitable for families with young children because the water is gentle and shallow.
Indoor Walks
Maybe you want to escape the heat and the flies, and chill out for a while. Do an indoor walk instead, at SEA LIFE Sunshine Coast Aquarium. Take a guided walk behind the scenes and see what happens back there! It's interesting to experience life from an Aquarist's point of view. Learn how they care for the thousands of fish and other marine animals, such as seals. The underwater Ocean Tunnel is 80 metres long, so if you're tracking steps on your phone or device, walk through again and again until you reach your goal. You'll be accompanied by huge stingrays and  11 different species of shark. What a serene and surreal way to get your daily exercise! Kids love it too, so bring the family, and afterwards, you can all hang out for ice cream on the newly redeveloped  The Wharf Mooloolaba.