Top Sunshine Coast Attractions Not to be Missed!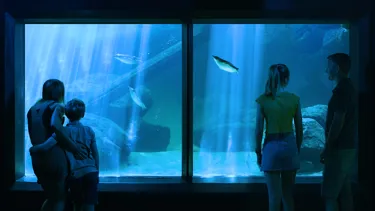 Looking for things to do on the Sunshine Coast? There's so much choice from natural beauty through to renowned Sunshine Coast attractions. Here's three different experiences that make the top of our list, make sure at least one is on your list or why not do them all and have the ultimate Sunshine Coast adventure?
A Day at the Beach
Who doesn't love the sight of golden sand and turquoise waves lapping at the shore? The Sunshine Coast is home to some of Australia's most spectacular beaches that stretch all along the coast, from Caloundra and north up to Noosa.
If you enjoy a surf, then head to Alexandra Headland or Moffat Beach for some waves when the swell is on point. You can also bring your pooch along for a surf at Point Cartwright and Sunshine Beach.
If you're looking for something that's perfect for kids we recommend Caloundra's Kings Beach for rock pools and their cool oceanfront swimming pool. It's also worth checking out the Mooloolaba Spit that is well patrolled by surf lifesavers during water months and in a nice spot, protected from the wind. They both also have beach side playgrounds!
Downtown Street Art Trail, Caloundra
Yes – this urban walking trail looks just as cool as it sounds! Get a taste of the funky Sunshine Coast vibe as this trail takes you on an easy 1.7km walking tour through the laneways and back alleys of Caloundra. There are nine street artworks to find on the trail that highlight local history, colourful stories and meaningful expressions by some of the best local and national Australian street artists. Discover The Lighthouse Murals, the Dingle Wall, Ma and Pa, the Miniature Panthers and more. You don't have to be an art expert to enjoy these vibrant street murals.
Download the Street Art Trail map here and follow the walking trail. Get a sneak peak of what you can expect to see with the video below.
SEA LIFE Sunshine Coast Aquarium
Your adventure definitely wouldn't be complete without a visit to SEA LIFE, one of the most popular Sunshine Coast attractions and a beloved favourite among locals. SEA LIFE Sunshine Coast is Queensland's largest aquarium where you can be mesmerised by thousands of marine creatures as you watch them from above the water or below in the oceanarium tunnel.
Every day you can join in the fun of our feeding times and learn all about our creatures with scheduled animal talks. If you're looking to make your visit extra special, why not treat yourself to one of our Seal Experiences? You'll adore our resident seals. The range of Seal Experiences we offer are the perfect way for you to get to know these playful animals with a once in time lifestyle experience.
Whether you decide to put just one of these on your list or see it all during your visit to the Sunshine Coast, you won't be disappointed with one of Queensland's best holiday spots.