Neo & Oasis go back in the wild
Tuesday 23rd March 2021
turtle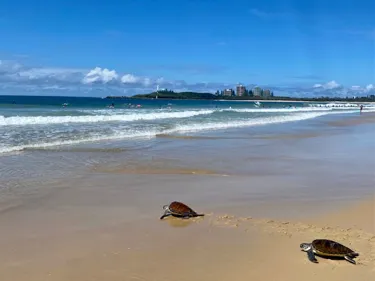 We had another successful turtle release last Friday afternoon down at Mooloolaba Beach. Neo and Oasis were both cleared by our vet Luke on Wednesday and we were just waiting for the right weather conditions to let them go.
Both turtles were found north of Mooloolaba in early February, with Neo beached washed at Peregian Beach and Oasis found floating off Pt. Arkwright. Neo was diagnosed with some fluid retention and just needed some extra care, whereas Oasis had a lung tear and needed some extra attention.
Both turtles put on between 0.7kg-1.2kg from all the yummy food they were fed by our amazing animal care team. When they were released, Neo was the one who got all excited and so full of beans when he was placed into the carry sling so we could get them down to the beach. As they were placed down on the sand, Neo is leading the race into the water, not even waiting for Oasis to catch up.
Good luck to both of you.