Iluka returns to the sea!
Wednesday 3rd March 2021
turtle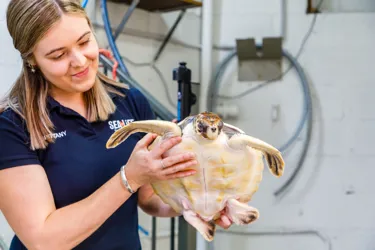 SEA LIFE Sunshine Coast Aquarium is marking World Wildlife Day today with the release of an unusual hybrid sea turtle at Mon Repos Turtle Centre!
The unique turtle has the carapace colour and head of a loggerhead turtle but the underside of a flatback turtle. He arrived at the Aquarium in February 2020 as part of a research study in collaboration with the Department of Environment and Science, and the team named him Iluka, which means 'by the sea' in the Bundjalong language.
Over the past year, the SEA LIFE Sunshine Coast team has been working with the Department of Environment and Science to better understand how hybrid turtles develop over time in order to assist with the identification of these turtles in the wild. They have been closely monitoring Iluka's growth patterns, which included regular weighing, measuring, gathering photos, and noting changes in shape and colour.
According to Brittany Attwood, Veterinary Nurse at SEA LIFE Sunshine Coast, the team has grown very fond of Iluka during his stay and it was bittersweet to say goodbye.
"I have loved working with Iluka and watching him grow and develop over the past 12 months. He came to us as a tiny hatchling and is now over 32cm long. Iluka is quite a cheeky little turtle and absolutely loves his food."
Brittany accompanied Iluka up to Mon Repos Turtle Centre near Bundaberg where he was released off the beach. Iluka was microchipped, tagged and genetic tested before his release.
"After a short walk down to the beach, I released Iluka into the ocean. This was a very slow process as Iluka spent about five minutes sitting and then moved slowly across the sand. Eventually a wave came in and the tide took him out into the ocean. This was a bittersweet moment for me. I'm so happy for Iluka to be back in the big ocean but I will miss seeing his sweet little face and his cheeky personality," continued Brittany. 
Iluka's release coincides with World Wildlife Day, which is a celebration of all the wonderful forms of fauna and flora and an opportunity to raise awareness of the need for their conservation and protection. World Wildlife Day is also a reminder of the need to fight against the human-induced reduction of species, which have wide-ranging economic, environmental and social impacts. 
Until his release, Iluka was residing in SEA LIFE Sunshine Coast's Turtle Rehabilitation Centre, which is behind the scenes at the Aquarium. SEA LIFE Sunshine Coast runs a Behind The Scenes Tour, which gives guests the unique opportunity to visit the upgraded Turtle Rehabilitation Centre, meet the rescued sea turtles and learn how the team aid in their recovery.