You'll Love this Day Out Activity for Toddlers
Friday 7th September 2018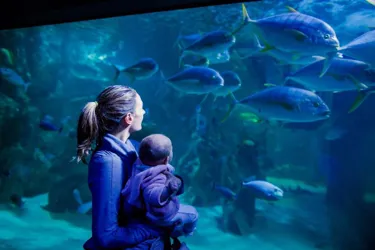 We don't know what it is about water that children seem to be drawn to; from a running tap, to a puddle of rain, children are just fascinated with it. Luckily for Brisbane and Sunshine Coast parents, we have plenty of the stuff at SEA LIFE Sunshine Coast Aquarium ready to mesmerise your toddler as they explore our underwater world with you. What's more, your hip pocket will love our 'Weekday Special' discounted SEA LIFE Sunshine Coast ticket. For just $25 you and your toddler under 3 can get out of the house and have a fun filled weekday out together at our aquarium.
Here's a quick rundown of the fun and educational activities you'll find inside our aquarium that will engage your toddler.
Get Hands on in the Tidal Touchpool
Kids LOVE touching new things, so our hands-on Tidal Touchpool is bound to be a big hit with your toddler. Just roll up their sleeves and let them discover and touch the array of marine life in the exhibit from sea stars to shark eggs. This interactive experience could even teach you a thing or two about the wonders of marine life as our expert education team will be there to answer any questions you have and provide you with interesting facts and stories.
Underwater "I Spy"
With so many beautiful fish on display, playing "I Spy" is a great way to help your child learn about different colours. Try being the spier yourself and pointing out different coloured fish ("I spy with my little eye, a fish that is yellow") and then let your little one find and point out the fish.
Spot the Difference
If your little one knows about his/her own face and other body parts already, you can have some fun pointing out the differences between them and one of the creatures you see. From wide set eyes, to big mouths and fins instead of arms, there's plenty of different types of marine creatures for you to keep having fun with this game.
Feed and Talk Times
It goes without saying that kids under 3 are more likely to engage in watching one of our daily seal presentations or a frenzied fish feeding than a purely educational talk on stingrays. So, make sure you take a look before you come at all our feeds and talk times. That way, you can make sure you don't miss out on the most suitable activities for you and your toddler.
Find out more about our budget-friendly Fishy Fun for Two weekday ticket below.