Accessibility
We strive to make the attraction as accessible as possible to all of our guests.
The following information will help answer any questions you may have on SEA LIFE Sunshine Coast's accessibility and facilities for your upcoming visit.
Mobility
There are 6 designated accessible parking spaces available for your use. Our car park is council owned and maintained and services other businesses as well. Please be aware that availability may be restricted in peak times.
The aquarium is wheelchair accessible throughout the attraction. There are ramps connecting each level so care should always be taken. There is a medical assistance button at the bottom of the ramps if required.
Wheelchairs may be borrowed from the admissions area if required. Please note that wheelchairs are on a first come, first served basis, and cannot be booked or reserved ahead of time.
You will be required to leave your ID behind while you use the wheelchair. 
Carer Tickets
All tickets must be pre-booked online in advance, therefore, please book your ticket via our website here and then for your carer, please scroll down in the webstore and select the free carer option. The carer must provide a valid companion card.
If you are a Merlin Annual Passholder or SEA LIF Sunshine Coast Annual Passholder and have additional needs and require assistance on your visits to our attractions, we issue one complimentary Annual Pass per disabled Passholder to be used by any carer. Apply for a carer pass here. 
Sensory
If you would prefer your visit to be less crowded and loud, we recommend you visit during the week (outside of school holidays), or any day after 1pm. This still allows you plenty of time to enjoy the full benefits the attraction has to offer.
For your information, there will be varying levels of lighting and music throughout the attraction to enhance the visit - please be prepared if this is a concern. 
Family Facilities
There is a parent room with microwave, change table and hand basin  located outside the seal stadium in between the male and female bathroom.
Toilets
There is an accessible bathroom with an adult change table and toilet available on the first level in between the male and female bathrooms.
Seating
Bench seating (without back or armrests) is available at intervals throughout the aquarium.
Emergency Exits
The emergency exits are accessible and hazard free. There are audible fire alerting devices. The assembly areas are on an accessible route. Our staff are on hand to assist with evacuation requirements.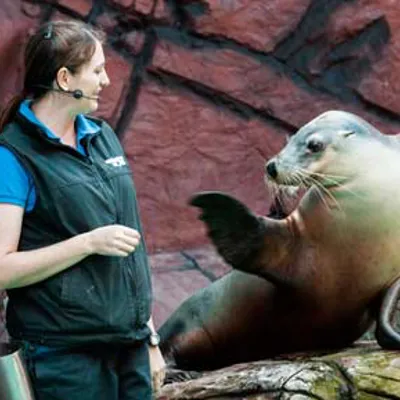 Save up to 20% on Tickets Outside of School Holidays
Do you love a great deal? You'll want to get your tickets online!
Save up to 20% on general admission prices when you buy your SEA LIFE Sunshine Coast tickets online in advance outside of school holidays. Buy your tickets online now and get a the best aquarium ticket deal around!
Buy Now