SEA LIFE Sunshine Coast Turtle Conservation Program
Rescue, Rehabilitate, Release
Turtles in Trouble
Introducing the SEA LIFE Sunshine Coast Turtle Conservation Program: Rescue, Rehabilitate, Release.
When dinosaurs roamed the Earth more than 150 million years ago turtles were plentiful. Of the world's seven species of marine turtles, six are found within Australian waters! Sadly, all six species are listed as either endangered or vulnerable to becoming extinct….our turtles are in trouble!
SEA LIFE Sunshine Coast has taken a proactive role in the rescue, rehabilitation and release of marine turtles to ensure that they are conserved and sustained for future generations.
There are many reasons why turtles are being rehabilitated here at SEA LIFE Sunshine Coast. The majority of which are human related impacts including eating rubbish particularly plastics which cause 'floating syndrome', boat strikes and entanglements by discarded fishing equipment and crab pots.
Since opening in 1989 SEA LIFE Sunshine Coast (previously UnderWater World) has rescued many turtles from beaches throughout Queensland. However this would not have been possible without the commitment and assistance of volunteer groups and individuals who bring turtles to the aquarium for rehabilitation.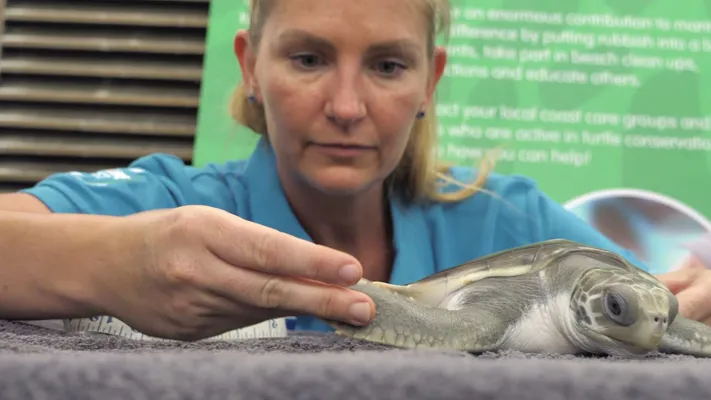 Who to Call If You Find a Sick Turtle Needing Help
If you see a turtle that is sick, injured or in distress contact the Queensland Parks and Wildlife Service (QPWS) on 1300 130 372.