Explore the world of LEGO®
Brickman Cities
Discover the historical journeys of some iconic cities!
A bricktastic day for the whole family
SEA LIFE Sunshine Coast is pleased to announce the launch of Brickman Cities, powered by LEGO City, on the Sunshine Coast for an interactive, collaborative and educational experience.
Brickman Cities will be on display at The Wharf Mooloolaba, right across SEA LIFE Sunshine Coast, from Saturday 2 April 2022, and features the historical journeys of the iconic cities of London, Dubai, New York, Tokyo and Sydney.
Experience the best of SEA LIFE Sunshine Coast and LEGO® with a 2 attraction combination ticket for just $65. The combination ticket grants access to both SEA LIFE Sunshine Coast and Brickman Cities!
Brickman Cities is suitable for kids aged 5+, and adult LEGO® fans of all ages!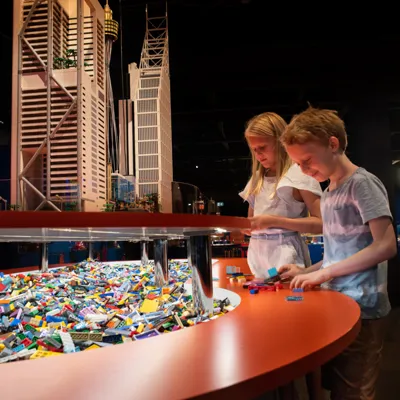 About Brickman Cities powered by LEGO® CITY
Brickman Cities powered by LEGO® CITY, created by LEGO® Masters Australia judge Ryan 'The Brickman' McNaught, explores the life and architecture of five of the world's greatest cities - New York, London, Tokyo, Dubai and, of course, Sydney. The focal point is a replica of the Sydney Tower made from over 30,000 LEGO® bricks which took over 100 hours to build.
The centrepiece of this experience is a 1:600 scale model of Manhattan, which is built entirely in white LEGO pieces with 3D stories of New York projected directly onto them. The Lower Manhattan model is made of over 200,000 LEGO® bricks and took approximately 572 hours to build!
Incorporating rich history from cities around the world, the exhibition utilises LEGO® not only as an artistic medium, but as a platform for interaction, collaboration and education.