Meet the team who take care of all of our creatures!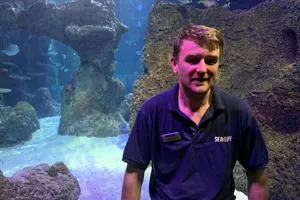 Brendan - Curator
"My original passion is working with the creatures here at Sea Life"
Brendan graduated from Stirling University with a BSc(Hons) degree in Aquaculture. As part of his course, he was able to go to South Australia to work at a Southern Bluefish Tuna Farm.
Brendan began his SEA LIFE journey in Blackpool in 2002 as Displays Supervisor, after which he was promoted to Curator and oversaw the set-up of SEA LIFE Loch Lomond in 2005. In 2018 he joined the team here in Manchester as Curator.
Favourite sea creature? "Due to work I have undertaken with them, I would have to say Great White sharks.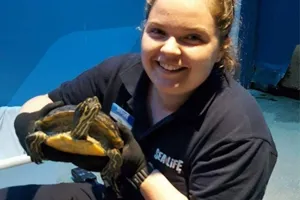 Ellie - Aquarist
"I have always been fascinated by the Ocean as there is still so much to learn about it."
Ellie studied Marine Biology at Bangor University, graduating in 2014, after which she travelled to Tenerife to volunteer in whale and dolphin conservation.
Ellie began her life at SEA LIFE Manchester in our Guest Entertainments team before being offered the role of Aquarist in 2016.
Favourite sea creature? "I love the Napoleon Wrasse we have here at Sea Life Manchester due to his nosy behaviour and striking patterns."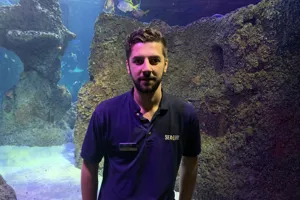 Luke - Displays Supervisor
"I gave up my existing job to chase a career I am passionate about."
Luke's background is actually as an air conditioning engineer, which comes in very handy when working with the chillers, heaters and pipework we have behind the scenes!
Luke has always been passionate about working with sea creatures and has kept marine fish at home for the past 8 years. His journey with SEA LIFE Manchester began as a member of the Guest Experience team, but on his days off he would come into the centre to volunteer alongside the Animal Care team to gain the experience he needed to become an Aquarist! He finally joined our team of Aquarists in 2018, and became our Displays Supervisor in 2020.
Favourite sea creature? "Definitely the Manta Ray!"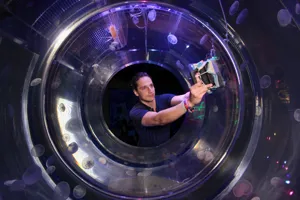 Matt - Aquarist
"I have worked at Sea Life Manchester for just under 6 years and have loved every second!"
Matt studied Animal Management at Reaseheath College, Nantwich and gained a Level 3 Extended Diploma during his time there.
Following his studies, Matt began working at SEA LIFE Manchester in 2013 and has been an integral part of the Aquarist team ever since.
Favourite sea creature? "I like the Coelacanth fish which is related to the Lungfish!"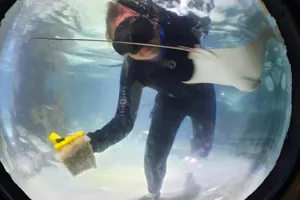 Kerry - Aquarist
"Watching new arrivals grow, learn and being part of breeding stud books, is the best part of the job"
Kerry studied Zoo management at Reaseheath University centre, graduating in 2021. As part of her course, she undertook a student placement here at SEA LIFE Manchester and was offered the position of Aquarist in November 2021.
Kerry likes coming up with new and novel enrichment ideas to keep our animals learning and entertained. Keep an eye out for her creations around the centre!
Favourite sea creature? "I love Dolphins in the wild because of their intelligence but I have a massive soft spot for our juvenile Cownose Rays!"