Discover Fun Frog Facts on World Frog Day
Saturday 20th March 2021
World Frog Day, Frogs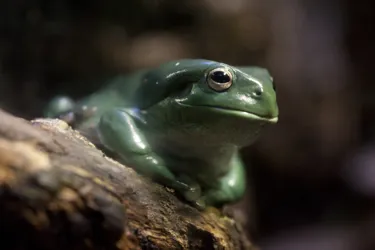 Today is World Frog Day so we thought we would celebrate with some facts from Tom Fair our resident amphibian expert!
SEA LIFE Melbourne Aquarium is home to five different frog species, which reside in the Rainforest Zone on Level 1. They are ambassadors for their species, helping inspire people to love animals and learn more about them.  
Taking place annually on 20 March, World Frog Day is an excellent opportunity to learn more about frogs and how we can help protect them in the wild.
Here are some fun frog facts from Tom:
New Frog Species for people to see at the Aquarium:  
 The two newest residents to our Banana Box Frogs zone are the beautiful dainty tree frog (Litoria gracilenta) and the tiny northern dwarf tree frogs (Litoria bicolor), which are both native to Northern Australia but hitchhike down to Victoria in produce and ornamental plants! They can be hazardous disease vectors for local frog species and are not able to survive in out cooler, dryer climate, so if you find these hitchhikers in Melbourne, they can be handed over to the Amphibian Research Centre for care.
My favourite frog fact:
 the green and gold bell frogs (Litoria aurea), who produce a bitter mucus when they're upset, which is designed to repel predators. This mucus contains 13 unique peptides that are currently being investigated for broad spectrum antibiotic properties, and cancer inhibition.
Threatened frog species:
SEA LIFE Melbourne is currently home to a number of green and gold bell frogs (Litoria aurea), which are currently listed as vulnerable on the IUCN Red List as they have one of the fastest population declines of any Australian frog, dropping about 30% in the last 10 years and continuing to fall. Habitat destruction is one of the main threats, with the 2019/20 bushfires destroying a large portion of their habitat.
My love of frogs:
 I have been an amphibian and reptile fan my entire life, even keeping them in my bedroom as a child! I have my dream job, working at SEA LIFE Melbourne and caring for our family of frogs in the Rainforest zone, along with Pinjarra the crocodile, water dragons, snakes and lizards.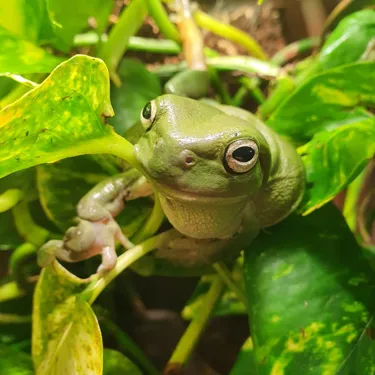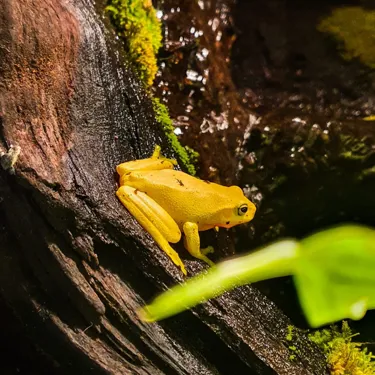 Book now
General Admission
Special Price
$37.60
Per Adult
Standard Price
$47
Per Adult
Price includes a Digi Photo Pass, giving you online access to your digital entry photos – valued at $26!
Book a date and time to guarantee entry
Discover thousands of creatures including penguins, jellyfish and a mega Croc!
Book 24 hours in advance to receive our best price! Only available for weekdays, excluding the school holidays and public holidays
Children under 16 years of age must be accompanied by a responsible adult aged 18+
Book this ticket if you have a Merlin Annual Pass and need to book a time slot
Make sure you book a date and time to guarantee entry