It's time to 'jelly-brate' a brand-new tour at SEA LIFE Melbourne Aquarium!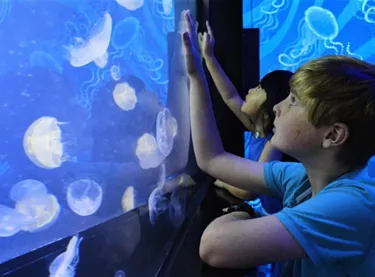 SEA LIFE Melbourne Aquarium is launching another new experience for guests – a behind the scenes tour of the incredible Jelly Lab.
Until today, guest have only been able to peek through as the team of aquarists tend to the blooms of the graceful (and sometimes dangerous) jellyfish, but from today they'll be the ones behind the glass.
As part of the brand-new Jelly Lab Experience, visitors will don a lab coat and get real hands-on experience inside the laboratory which is home to six species of jellyfish! This captivating learning opportunity gives guests the opportunity to feed and touch live jellyfish whilst highlighting the fascinating diversity amongst the species and what's involved in the breeding process.
"SEA LIFE Melbourne Aquarium is home to six species of jellyfish all with unique characteristics. This brand-new experience is the only one of its kind in Australia and allows visitors to safely get up close with blue blubbers, upside down jellies, white spotted jellies, lions mane jellies, mauve stingers and moon jellies, and learn what it takes to breed these beautiful creatures," said Patrick Noble, Curatorial Displays Supervisor at SEA LIFE Melbourne.
The 35-minute Jelly Lab Experience runs three times a day and is available for guests aged 5 and over for an additional $25 per person. The Jelly Lab is a working laboratory; therefore tickets are limited to six per tour and pre-booking is essential.
Guests can also discover a range of other marine and freshwater creatures at SEA LIFE Melbourne including sub-Antarctic penguins, a saltwater crocodile, thousands of fish species and more!
Guests can go BIG and double the family fun with the Melbourne Big Ticket, which gives families access to both SEA LIFE Melbourne Aquarium and LEGOLAND Discovery Centre.