Meet Lauren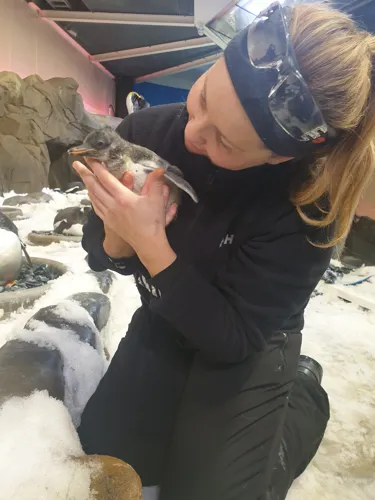 How long have you worked at the aquarium?
I have worked at the aquarium for 2 years now, I started as a casual and then progressed to a full-time position and now I work part time with the penguins and part time as a vet nurse.
Do you have any other animal or related experience you can tell us about?
I am a qualified vet nurse and work part time for myself as a nurse as well as in a clinic environment. I have also been the head zookeeper of 'Tree Roo Rescue' up in Far North Queensland where I would rescue, rehabilitate and release sick, injured and displaced Lumholtz tree kangaroos. I have worked with a few smaller zoos across Victoria and with one I was lucky enough to work with our Australian penguins, little blues penguins. These are the smallest in the world, and now I am lucky enough to work with the 2nd and 3rd largest in the world!
What is your favourite part of your job?
My favourite part of this job is the team environment. I know I am privileged to work with these animals, I have also worked really hard to get to where I am today, and this team of penguin's keepers are just amazing! Their dedication to the animals is the best I've worked with. It makes it a joy to come to work every day and really makes you appreciate the job even more!
Tell us a bit about training penguins and how that works on a daily basis?
Training never stops, even if it's not intended! We have set training schedules and plans, such as asking the penguins to respond to hand signals or step up on the scales for weigh day. These behaviours have all been demonstrated, asked and then expected of the penguins on a day to day basis. This keeps their minds engaged and gives them the opportunity for rewards. However whenever you are in the exhibit, your behaviour will be reflected in the behaviour of the birds. If you are calm and quiet and controlled with your movements the birds will be calm and quiet around you, if you are stressed or loud the birds pick up this energy and will react differently to you. So this means you are constantly managing your energy around the birds, this is a skill all keepers learn over time, so ironically we also have to train ourselves when training the penguins.
What's your best memory or experience working at SEA LIFE?
I have so many memories from my years at SEA LIFE! The first chick of the season hatching is always a special memory and something we all look forward too.
In your opinion: Who is the naughtiest penguin?
Tiger was the naughtiest Gentoo penguin when I first started at SEA LIFE! Each morning the keepers scrub the whole exhibit and Tiger would follow me around and try and steal my scrubbing brush, if I looked away for even a second he would take off with it! He has grown up a little and now thinks that standing with the king Penguins during their hand feed, hoping for a dropped fish so he can swoop in and grab it is a better use of his time.
Who is your favourite penguin?
My Favourite Gentoo Penguin is Mushroom, ironic because I hate real mushrooms. Mushroom is a gentleman and will say hello to your every morning. He is very handsome and a great partner to his girlfriend Polly.
When did you know you wanted to work with birds?
I didn't know I wanted to work with birds until I actually started doing it! I thought birds were boring when I was growing up; I wanted to work with the cute and cuddly mammals. But once I started working with parrots and penguins and birds of prey I realised how intelligent they were and how much you could bond with a bird. They are now one of my favourite species to work with!
What is the hardest part about caring for penguins?
The hardest part about working with penguins is the cold! I'm already a cold person, but working in -2 degree Celsius is tough, it definitely takes some getting used to, but I thoroughly enjoy my hot showers at the end of every day!
Head to our Junior Keeper page for more information...
Become a Junior Keeper today and book now.