Melbourne Travel Voucher Scheme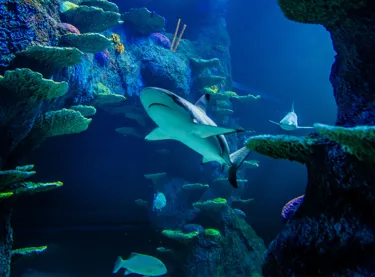 The Melbourne Travel Voucher Scheme provides eligible Victorians with $200 to help cover the costs of a minimum two nights paid accommodation, plus attractions in metropolitan Melbourne during the eligible travel period. Victorians are encouraged to stay overnight in metropolitan Melbourne and experience everything the city has to offer, including SEA LIFE Melbourne Aquarium!
How much are the vouchers worth?
Funding of $200 per household is available as reimbursement if more than $400 is spent in Melbourne on paid accommodation and other eligible expenses listed above.
The 40,000 vouchers are available on a first-come-first-served basis and will close once all vouchers have been issued.
What can the vouchers be spent on?
Great news! You can spend the vouchers on a visit to SEA LIFE Melbourne Aquarium, which falls under the "attractions" criteria! 
Applicants must provide evidence that they have spent at least $400 on paid accommodation, plus tours or attractions to meet the "Eligible Expenses" criteria for reimbursement:
minimum two nights paid accommodation, which means serviced apartments, backpackers and hostels, bed and breakfasts, cabins or caravans in holiday parks, caravan site fees, cottages, private holiday rentals, motels, hotels, resorts, retreats and lodges
paid tours and experiences, which means tour operators that offer regular organised tours with a leisure-tourism focus, organised by experienced guides. These may include a personal host and/or commentary. For example, a boat cruise, guided walk, bus tour, air tour, food and wine tour, sport tour, outdoor and adventure tour
entry fees to attractions, which means places/areas of interest that offer a distinct visitor experience to the leisure tourist, such as museums, galleries, water parks, local attractions, theme parks, etc.
The vouchers won't cover:
gaming
alcohol (except if alcohol is included in a tour at locations such as a winery, brewery or distillery; excludes any alcohol purchased and consumed outside of the experience)
fuel
food and drinks, except where packaged with an eligible expense such as a winery tour
groceries
personal items such as clothing and accessories
transport costs (rental vehicles, train and bus tickets).
When will the Melbourne Travel Vouchers be valid for travel?
The vouchers will be valid:
Commencement of eligible travel period: 19 March 2021
Completion of eligible travel period: 16 May 2021
If you travel after the cut-off date, the voucher will become void and will not be able to be redeemed during the claim period.
Who is eligible to apply for the vouchers?
Applicants can submit a registration via an application form on the Service Victoria website: Apply now via Service Victoria
Applicants must provide one of the following:
Victorian drivers' licence
Victorian Proof of Age Card
Victorian Seniors Card
How do I redeem my vouchers?
You will be sent a link during the Eligible Travel Period to enable you to make your claim after you have undertaken your trip during the relevant Eligible Travel Period. Using the link, you can upload the evidence of eligible expenditure from your trip. Please note that you will need to provide tax invoices and/or receipts for a value of at least $400 towards Eligible Expenses.
How do I claim my $200 travel voucher reimbursement?
You will receive an email prompting you to submit your claim from 26 April 2021.
Using the link in this email, you can upload the evidence of eligible expenditure from your trip – note that you will need to provide tax invoices and/or receipts for a value of at least $400.
The last day you can redeem your travel voucher claim is 30 May 2021
Find out more