New world first: underwater dining announced!
Tuesday 30th March 2021
1 April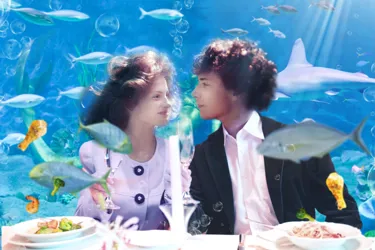 SEA LIFE Melbourne Aquarium launches world-first: Underwater Dining!
Melbourne – Thursday 1 April 2021: SEA LIFE Melbourne Aquarium is taking its Private Dining experience to all-new depths with the launch of a world-first Underwater Private Dining experience from today onwards!
Thousands of people have dined surrounded by sea creatures at the Aquarium over the years and now they'll have the opportunity to dine while fully submerged in the 2.2 million litre Oceanarium for the ultimate multi-sensory experience.
Competing with sharks, rays and hundreds of fish for food, Underwater Private Dining gives guests the opportunity to even closer to the magnificent marine creatures residing at the Aquarium.