Once extinct zombie fish returns to Victoria's Goulburn River system for the first time in 100 years!
Thursday 7th September 2023
zombie fish, extinct, Conservation
For the first time in 100 years, rare fish bred by SEA LIFE Melbourne Aquarium head into wild waters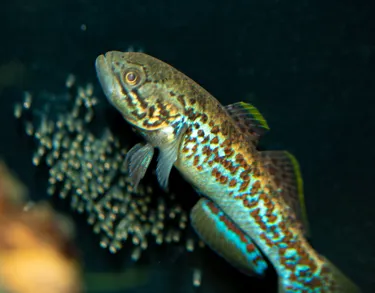 Ahead of National Threatened Species Day (Thursday 7 September), SEA LIFE Melbourne Aquarium, in partnership with the North Central and Goulburn Broken Catchment Management Authority (CMA), has released the once declared extinct, zombie fish (aka southern purple-spotted gudgeon) into McLarty's Lagoon, a natural wetland on the mid-Goulburn River, Victoria.
SEA LIFE Melbourne seized a rare opportunity last year to partner with North Central CMA to house an insurance population of the endangered fish. This remarkable collaboration not only provided a secure haven for breeding but also an invaluable space for educating visitors about the crucial role of wetland conservation. 
"We are proud to release our very first cohort of southern purple-spotted gudgeon which were born and bred at SEA LIFE Melbourne Aquarium following the establishment of this exciting breed for release initiative. Now that the fry (young) have developed to around 2-3cm long, we have returned them into pest-free 'surrogate' sites in the wild to expand the population," said Samuel Fawke, Curatorial Supervisor at SEA LIFE Melbourne.
"This is the first time SEA LIFE Melbourne has bred and released native fish, into the wild. We hope to be involved in more programs like this in the future to help conserve both marine and freshwater species, particularly those that are endemic to Victoria."
Visitors to SEA LIFE Melbourne can watch conservation in action, seeing the southern purple-spotted gudgeon up-close and learning about the recovery efforts in the aquariums Wetlands Recovery Nursery on Level 1.