Happy Penguin Awareness Day
Wednesday 20th January 2021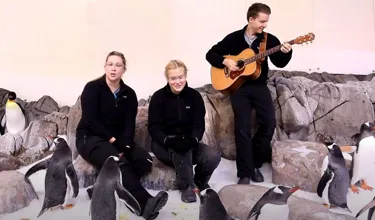 Watch the penguin team sing to the cheeky penguins for Penguin Awareness Day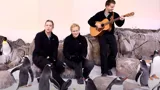 Penguin Keepers Lauren Dole and Taylor Sansom have serenaded the adorable penguins at SEA LIFE Melbourne Aquarium in celebration of Penguin Awareness Day!
The Sub-Antarctic King and Gentoo penguins were treated to a private performance by their keepers to mark the important occasion. Lauren and Taylor, who both moonlight as semi-professional singers, chose the iconic Australian anthems "You're the Voice" by John Farnham and "Horses" by Daryl Braithwaite to pique the interest of the playful penguins. They were joined by Lauren's performing partner Kieran McNamara on guitar.
Taking place annually on 20 January, Penguin Awareness Day aims to raise awareness of the plight of penguins in the wild and the need for their protection. There are 18 different penguin species around the world and 11 of these are vulnerable or endangered due to human impacts such as climate change, overfishing, plastic pollution, invasive species and habitat degradation. People can make a difference by eating sustainable seafood, being responsible with their rubbish and keeping a safe distance from wild penguin habitats.
You can see the King and Gentoo penguins in action and learn more about these fascinating flightless birds.
Book Now
Book to see the penguins today!
General Admission
Online From
$47
Per Adult
Price includes a Digi Photo Pass, giving you online access to your digital entry photos – valued at $26!
Book a date and time to guarantee entry
Discover thousands of creatures including penguins, jellyfish and a mega Croc!
Book 24 hours in advance to receive our best price! Only available for weekdays, excluding the school holidays and public holidays
Children under 16 years of age must be accompanied by a responsible adult aged 18+
Penguin Passport
Online From
$199
Per Person
Get up close to our cheeky Gentoo and King penguins
AGES 12+ (guests between the age of 12-16 must be accompanied by a paying adult (18+) also participating in the tour)
All day aquarium admission included