Marine Mayhem with PJ Masks
Wednesday 17th March 2021
School holidays, PJ Masks, Thing to do Melbourne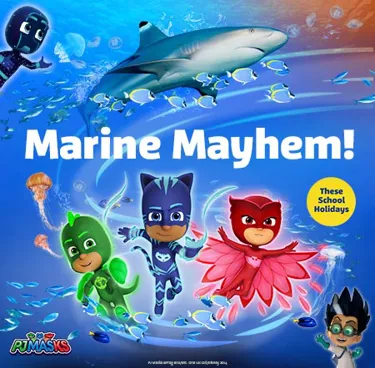 Stop the Marine Mayhem with PJ Masks
These school holidays, Marine Mayhem is taking over SEA LIFE Melbourne Aquarium and it's up to PJ Masks - and YOU - to stop the night-time baddies!
The first stop is to pick up your own mask - every hero needs a disguise for fighting mayhem!
Then embark on an underwater mission armed with an activity book that will teach you all about how we can protect our most unique and vulnerable creatures. Your mission is to match the shape of the animal with the one in your activity book!
Next find the interactive PJ Masks activity stations inspired by sea stars, sharks, octopuses, crabs and seahorses. You can help 'Stop the Marine Mayhem' by finding out if they have the strength of a sea star or the speed of a shark as they navigate from tank to tank!
Catboy Meet & Greets
Exclusively running on April 3rd, 4th, 10th, 11th, 17th & 18th.
Once you've saved the day strike a victory pose alongside the one and only Catboy!
Meet & Greets will be taking place during the following times:
10:30am - 11:00am
11:30am - 12:00pm
12:30pm - 1:00pm
1:30pm - 2:00pm
*Please note, Catboy Meet & Greets will be hosted at the Croc Cafe on Level 1.
Info:
Where: Corner of King Street and Flinders Street, Melbourne
When: 2 - 18 April 2021
Hours: Attraction open daily from 10am-5.30pm (last entry 4.30pm).
Cost: Included in price of admission. All tickets must be pre-booked online in advance
Book tickets now!
Meet Catboy!