SEA LIFE Melbourne Aquarium successfully breeds critically endangered handfish
Tuesday 10th January 2023
critically, endangered, handfish, Spotted Handfish, breeds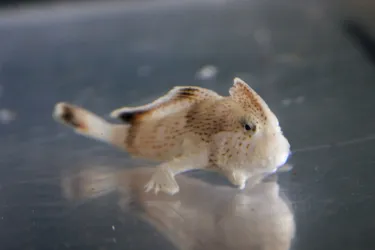 SEA LIFE Melbourne Aquarium is proud to announce it has successfully bred the critically endangered spotted handfish. This unique, quirky little species uses its hand-like pectoral fins to walk along the seabed rather than swim.
The breeding success marks a world first for this species to have the entire cycle of courtship, fertilization, egg laying and hatching occur in aquarium habitats and in human care.  
Visitors to SEA LIFE Melbourne can now see the baby spotted handfish on display in the Seahorse Pier zone. These fish are ambassadors for their species, helping the team at SEA LIFE Melbourne raise awareness of their plight in the wild.
Wild populations of spotted handfish – a bottom dwelling species endemic to Tasmania's Derwent Estuary – have dwindled since the 1980s due to habitat degradation, pollution and invasive species impacts.
SEA LIFE Melbourne is a member of the National Handfish Recovery Team and works with the Handfish Conservation Project alongside CSIRO, Zoo and Aquarium Association, National Environmental Science Program and Seahorse World. The group is working together to recover and conserve this species, which was declared critically endangered in 1996.
The aquarium's role is to educate guests about this rare (and adorable) species through their display, which also serves as a protected population.  SEA LIFE Melbourne established their breeding program in late 2017 and since then the team has replicated conditions in the wild, including changes in temperature, lighting and salinity levels, in order to encourage breeding.
"After five years of working with this species, we are excited to present our first spotted handfish babies (known as fry) to the world. They hatched in late January 2022 and have been growing and developing in nursery aquariums in our back-of-house facilities for the past year. They are now ready to go on display. This is an incredible step forward for the program and a major achievement for our team. Previously, handfish eggs have been collected from the wild then hatched in aquariums, but this is the first time the entire process of fertilization, egg laying and hatching has taken place in human care," said Sam Fawke, Lead Aquarist at SEA LIFE Melbourne.  
In the future, SEA LIFE Melbourne and the National Handfish Recovery Team hope to release aquarium bred spotted handfish into the wild to help recover the populations in the Derwent Estuary. The breeding program is one piece of the puzzle when it comes to the protection of spotted handfish and is being implemented in conjunction with several habitat protection efforts.