The best things to do with Kids on the Sunshine Coast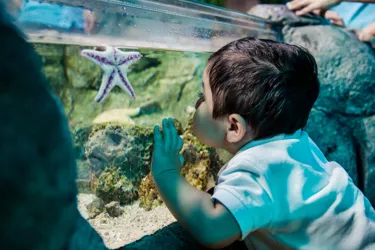 The Sunshine Coast is full of family-friendly things to do, and it's easy to find them with a little local know-how. Use our insider guide, to discover the best activities on the Sunny Coast for mums, kids and whole-families too.
The Wharf Mooloolaba
The Wharf Mooloolaba has had a makeover, so get down to the waterside and check out the developments. There are new shops, including homewares and vintage clothing. Pick up some fresh threads at this hub of coastal style. Then hit the restaurants for a bite to eat. Will it be Latin street food, fish and chips or a refreshing gelato? The wharf has changed to offer much more variety. And that's not all that's changed…
SEA LIFE Sunshine Coast Aquarium
Underwater World is now called SEA LIFE Sunshine Coast Aquarium. This icon of The Wharf Mooloolaba is better than ever. Wave hello to the resident seals on Seal Island. These characters are local legends! The Seal Presentation is hilarious fun, and there are cool displays to lift your kids' interest to the next level.
Finding Dory
Another activity you must try is 'Finding Dory & Friends: the Experience.' This is a brand new interactive exhibit, created in conjunction with Disney Pixar. Kids can use an echo locator to find their way around, just like a dolphin. Take on Nemo's Challenge, and ride the EAC (East Australian Current) with Crush, the sea turtle. It's a super fun way to explore an amazing underwater world. When you book tickets online, remember Underwater World has a new name: SEA LIFE Sunshine Coast Aquarium.
Eumundi Markets
Set in the lush semi-tropical surrounds of the Sunshine Coast hinterland, Eumundi markets is a real beauty. Packed with artisanal treats and crafty discoveries, you can bliss-out while the kids play under the shady trees. Pick up a coffee or a cool drink and wander between the vendors. There's a lovely village feel, with friendly people saying hello and stopping to pat each others' dogs. With so much going on at a gentle pace, the kids won't get bored, and you can enjoy some hassle-free, alfresco retail therapy.
Tiny Towns
The Sunshine Coast Hinterland has no shortage of charming little towns. From Eumundi to Mapleton, Maleny and more, there are interesting things to buy, and plenty of adventures to be had. Throughout the area, significant patches of remnant rainforest offer family-friendly hikes. Try Mapleton Falls, which is an easy one for families. Further south, the famous Glasshouse Mountains have a variety of walks, with breathtaking views. Visit a pineapple or ginger farm, stop off at a roadside cafe for afternoon tea, and count the mountain peaks rising towards the sky.
Maroochydore
It wouldn't be a visit to the Sunshine Coast without going to the beach. And frankly, they're all fantastic! Our pick is Maroochydore, with its sparkling waters and golden stretch of sand. The waters at Cotton Tree are calm, so the kids will have a great time swimming there. Take the sculpture trail and discover unique pieces by local artists. Then, hit the beach again for another swim! It's the outdoor family activity Sunshine Coast locals 10/10 recommend!
SEA LIFE Sunshine Coast is also offering a Weekday Special for 1 adult and 1 kid. Please click below for more information: