Make a difference this World Turtle Day
Monday 10th May 2021
turtle, sea life trust, conservation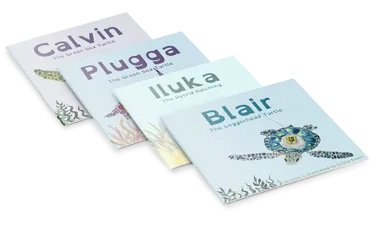 Lovers of sea turtles rejoice! This World Turtle Day, a set of beautiful children's books will be launched with 100% of the profits going towards caring for sea turtles in the wild.
SEA LIFE Aquariums across Australia and New Zealand have joined forces to launch the set of four stunningly illustrated children's books, each telling the unique tale of a local sea turtle, cared for by aquariums including SEA LIFE Sydney, SEA LIFE Melbourne, SEA LIFE Sunshine Coast and SEA LIFE Kelly Tarlton's, Auckland.
The stunningly illustrated bedtime stories explore the dangers that turtles face in the wild and touch on themes such as adventure, hardship, courage, accepting being different and the nurturing care of those who looked after the turtles.
Written and illustrated by the talented Kirsty Esson – artist, turtle lover and SEA LIFE team member – these books are for any children who love sea turtles and want to learn how they too can help these majestic creatures in the wild.  
Retailing at just $15, the profits from the sale of these books will be donated to registered charity the SEA LIFE Trust who will in turn put the funds to use on conservation campaigns, scientific research and inspiring education – all in the name of these majestic creatures who are facing very real threats in the wild.
The books will be for sale online from 23rd May – World Turtle Day - for a limited time only so if you want to purchase a storybook with a difference, mark your calendars so you don't miss out! Purchases can be made from your local SEA LIFE attraction's gift shop or online. 
Buy Online
Do you remember Iluka the hybrid turtle and his incredible adventure?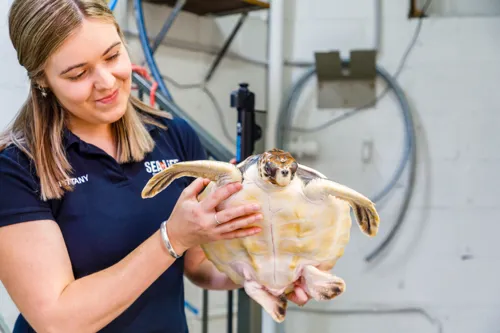 This book will entirely focus on Iluka's journey from arriving at SEA LIFE Sunshine Coast to being released in the wild. It is the tale of a turtle, who is a little different than most. Cared for by our staff, this story also explores the dangers that sea turtles face in the wild.
More Information
What is the SEA LIFE Trust?
The SEA LIFE Trust (ANZ) is committed to protecting Australia's unique aquatic animals and their habitats. The SEA LIFE Trust ANZ is a Registered Environmental Organisation working globally with the SEA LIFE Trust UK, regionally and locally, to drive positive behaviour change to conserve aquatic habitats and protect the amazing wild life that lives within them.
Through innovative conservation campaigns, scientific research and inspiring education we champion for plastic-free oceans, sustainable fishing, effective Marine Protected Areas and an end to over-exploitation of marine life.
Our vision is a world where vital marine habitats and wildlife are respected and conserved, where fish stocks are abundant and plastic pollution is extinct. 
Find out more