Turtle Release
Wednesday 9th September 2020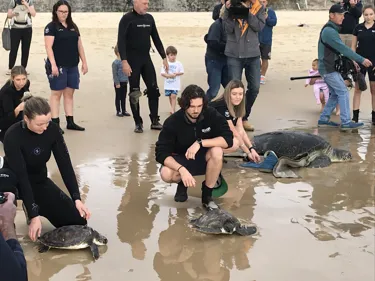 Three turtles, including the 100kg 'Big Kev' were released at Mooloolaba Beach
SEA LIFE Sunshine Coast released three green sea turtles, including an 100kg, metre-long male, back into the ocean this morning!
Affectionately named Big Kev by the team at the Mooloolaba aquarium, the large adult male turtle was found on 10 July 2020. Big Kev was stranded in the rocks on the river side of the Twin Waters Weir. It's thought he found himself on the other side of the weir after venturing across at high tide.
Big Kev was released alongside two other green sea turtles, Petro and Olly, who were both found last week. Petro was floating in the water 2km off Hells Gates and Olly was found washed up on the Mooloolaba rock wall.
Big Kev, Petro and Olly's recovery took place in SEA LIFE Sunshine Coast's Turtle Rehabilitation Centre, which is behind-the-scenes at the aquarium due to the high level of care the team members need to provide each individual turtle and the Queensland Government directive not to display injured turtles at this time. 
The rescue, rehabilitation and release of these three sea turtles is a reminder of the need to protect and conserve our marine wildlife. Human impacts such as habitat degradation and plastic pollution are particularly harmful to turtles in Queensland.
SEA LIFE Sunshine Coast wants the public to help keep our beaches and waterways clean this Spring. The team is encouraging people to dispose of their rubbish carefully and to choose plastic-free options where possible. If people choose to pick up rubbish on public beaches and waterways, it's important they comply with COVID-19 restrictions, wear gloves and wash their hands
For more information on what you can do to help please click here.