Baby Cownose Ray Named After Lioness Hero Chloe Kelly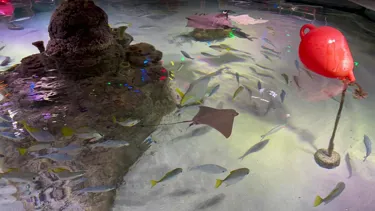 The new pup, named Chlo-ray Kelly, was born last month, and becomes the ninth cownose at the attraction.
Lioness Choe Kelly is currently enjoying a successful Women's World Cup campaign for England in Australia, where the forward has played a part in all three of England's group stage victories, and recently scored the winning penalty to see the team through to the quarter finals.
What's more, the Man City striker cemented herself into England footballing history back in 2022, when she notched the winning goal against old foes Germany to give England their first major trophy since the 1966 World Cup. 
As well as the nine cownose rays, SEA LIFE Manchester is home to three Javanese cownose rays, two southern stingrays, two blackchin guitarfish rays and one fiddler ray.
The unusual name for the species comes from the shape of their head and mouth resembling a cow's nose. They are a breed of stingray and possess a barb at the start of their tail to ward off potential predators.
Cownose rays are social creatures, often seen in collective fevers, the noun for a group of rays, which can on occasion reach numbers of up to 10,000 in the wild, so much like Chloe herself, the species like to be part of a team.
Jenn McDonough General Manager at SEA LIFE Manchester said: "We are all thoroughly behind the Lionesses as they look to emulate last year's EUROs success at the World Cup this year.
"Chloe Kelly became a national hero following her goal against Germany and she has inspired so many people to follow the women's game. As such, we thought what better way to pay tribute to the striker than to name our new baby Cownose ray after her! We hope she'll be swimming in glory by the time the tournament comes to an end."