Meet Di the Jelly Queen
Friday 11th September 2020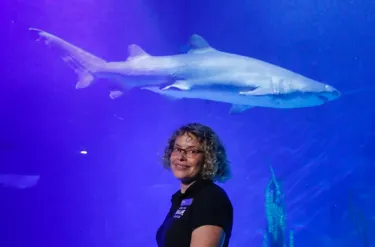 We sat down and had a chat with Di the 'Jelly Queen'. She has worked at the aquarium since the day we opened!
(Di with Mitchell the Grey Nurse Shark - Photograph from Jason South and the Age)
How long have you worked at the aquarium?
I started at Melbourne Aquarium on the 16th of August 1999, that's actually last century now! I believe I am the longest serving staff member in the (animal) Curatorial Deptartment!
Do you have any other animal experience you can tell us about?
Previous to becoming a marine biologist, I was a veterinary nurse for 13 years, working with small animals in general practice, both here in Melbourne and in Townsville.
What is your favourite part of your job?
The variety of animals that I get to work with and interact with everyday, learning about all the marine life we have at the aquarium, and of course getting to dive with them as well. And the added bonus of getting to work with a great bunch of people that share my similar interests and love of animals.
Who is your favourite creature at the aquarium?
I actually have many !  However, I have one that's close to my heart, and he has been with the Aquarium since the very beginning, that's 'Mitchell' ourthree metre grey nurse shark.  I am also particularly fond of the sea jellies, having worked with them for over 20 years now. I still have the heartfelt name of "Jelly Queen".
We also used to have sea snakes at the aquarium, which I was responsible for.  They were the 'hardwick sea snake" which were incredibly interesting to display, both to the public, and to interact with as a diver. We hope to obtain these snakes again one day. They are an absolute dream to work with, despite being venemous.
What's your best memory or experience working at SEA LIFE?
There's many!  From transporting sharks from Queensland to Victoria, to releasing wild turtles after rehabilitation at the aquarium, back into the wild, to breeding and raising sea jellies, acclimatising new animals into the oceanarium, diver presentations to the public whilst being able to talk underwater, presenting to the public on certain marine animals, and finally being lucky enough to be able to bring in my daughter into the aquarium to appreciate and learn about marine creatures to educate her for her own children in the future. 
What is the worst part about working with animals?
Its not all glamour and 'patting' fish all day - we do vacuum the displays as you would  at home, to collect fish waste or poo. We also clean the displays in quite cold conditions and perhaps smelling a bit 'fishy' somedays!!
It's also very difficult to say goodbye to an animal that has been at the aquarium for a long time, particularly if it's an old animal, or if that animal gets sick.  For we all get attached to our animals and it's very sad, even though for the best at times, to say goodbye. Fortunately, we have extremely caring staff members and vets that feel the same way. We are all very compassionate and support each other if an animal is no longer able to be helped medically. 
Do all of the animals have names and would you be able to name them all?
All of our sharks and large stingrays have names, and yes, I certainly like to think I can name them all, seeing I have worked with them for so long.
(Di with Mitchell the Grey Nurse Shark - Photograph from Jason South and the Age)
Is there an animal you don't like working with?
The wobbegong shark, due to its ability to be an ambush predator, and bite without letting go!
When did you know and how did you know you wanted to work with animals?
That's a great question!! I was a very little gir - all of four years old - when my animal obsession began!  I remember getting up at 4am to see the bottled milk being delivered to my home via horse and cart. I adored horses and couldn't wait to see the horses everyday.  My love of animals then extended to dogs and cats, with me finally convincing my mum to let me have a dog and cat in my teenage years.  I wanted to become a veterinarian however I didn't get into the course, so I then got a job as a veterinary nurse at 16.  I worked in the veterinary industry for 13 years.  During that time, I started recreational diving in my 20's then a strong interest in marine biology evolved.  I inquired to study marine biology at James Cook University, and was accepted into the course in 1995. I completed my honours degree in 1998, then got a job at Melbourne Aquarium in August 1999. And the rest they say, is history!! I am still here today, and love my interaction with all the marine creatures today, as much as I did the very first day I began at the Aquarium. I'm here to stay!!!
Meet our sharks today