Before Your Visit
PLAN AHEAD
When booking your excursion, have a couple of dates and times in mind. We will do our best to accommodate your first choice of day and time, but in case we are already booked up on your desired day it's good to have an alternative.
We are open for school excursions every week day during Queensland term time and our hours are from 9am to 3pm. 
Let our reservations team know as much as you can about the students who will be attending, including numbers and details of any special needs. 
WORKSHEETS

If you are using worksheets onsite, please print copies for your students prior to your visit.
GROUP SIZES

When booking a guided excursion you will be advised of the recommended group size ahead of your visit and can split your group accordingly where needed. For self-guided visits, please divide your students as evenly as possible into groups of no more than 30 each in preparation for your tour. If specific capacities apply due to COVID restrictions you will also be advised of these ahead of your visit.
WHAT TO BRING
Students completing worksheets will need to bring along a pen, clipboard and a copy of the worksheet.
RISK ASSESSMENTS
Please request your risk assessment from our reservations team at: SLSCReservations@merlinentertainments.com.au
COMPLIMENTARY FREE VISIT FOR TEACHERS
Registered Queensland teachers are welcome to one complimentary pre-visit ticket to SEA LIFE Sunshine Coast during term time. We want you to feel confident in your decision to book your next school excursion, so come and explore an aquarium that is guaranteed to inspire your class! Please click here to book.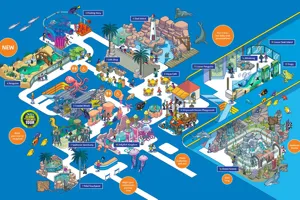 Download the Aquarium Map
Plan ahead with our map of the aquarium. If you are booking a self-guided visit this will help you to plan where to spend your time in line with your topic focus. 
Download Here
On the Day
GETTING HERE
Find us on Parkyn Parade, MOOLOOLABA QLD 4557. We are just a 2 minute walk from the beach at the southern end of the Mooloolaba Esplanade. For more details visit our location, transport and parking page.
ON ARRIVAL
Please ensure you arrive at SEA LIFE Sunshine Coast at the time your excursion is booked. If you arrive late we cannot guarantee entry as the next timeslot may be fully booked.  
For more information around COVID-19, please refer to our current health and safety guidelines. 
FREE downloadable classroom content